Delicious Holiday Recipes
Simple Whole-Wheat Bread
Ingredients:
3 C warm water
2 (.25 oz) packages active dry yeast
1/3 C honey
5 C bread flour
3 Tbsp melted butter
1/3 C honey
1 Tbsp salt
3/12 C whole-wheat flour
2 Tbsp melted butter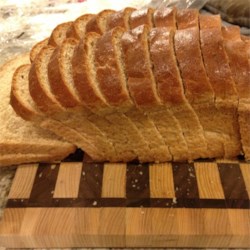 Directions:
In a large bowl, mix warm water, yeast, and 1/3 cup honey. Add 5 cups white bread flour, and stir to combine. Let set for 30 minutes, or until big and bubbly.

Mix in 3 tablespoons melted butter, 1/3 cup honey, and salt. Stir in 2 cups whole-wheat flour. Flour a flat surface and knead with whole-wheat flour until not real sticky - just pulling away from the counter, but still sticky to touch. This may take an additional 2 to 4 cups of whole-wheat flour. Place in a greased bowl, turning once to coat the surface of the dough. Cover with a dishtowel. Let rise in a warm place until doubled.

Punch down, and divide into 3 loaves. Place in greased 9 x 5 inch loaf pans, and allow to rise until dough has topped the pans by one inch.

Bake at 350 degrees F (175 degrees C) for 25 to 30 minutes; do not over bake. Lightly brush the tops of loaves with 2 tablespoons melted butter or margarine when done to prevent crust from getting hard. Cool completely.
*For a healthier alternative, use unbleached bread flour.
Source: http://allrecipes.com/recipe/simple-whole-wheat-bread/
Picture Source: http://images.media-allrecipes.com/userphotos/250x250/01/01/24/1012491.jpg
Peppermint Fantasy Fudge
Ingredients:
3 C sugar
3/4 C butter
1 small can (5 oz) evaporated milk
1 package milk chocolate chips
1 jar (7oz) JET-PUFFED Marshmallow Crème
1 tsp vanilla
1 C chopped walnuts (optional)
2-3 drops Be Young Peppermint Essential Oil
Directions:
Grease a 9x13 inch pan with butter. Bring sugar, butter, and evaporated milk to a full rolling boil on medium heat, stirring constantly. Cook 4 minutes or until candy thermometer reaches 234 degrees Fahrenheit, stirring constantly. Remove from heat.
Add chocolate and marshmallow crème; stir until melted. Add nuts, vanilla, and essential oil; mix well.
Pour into prepared pan; spread to cover bottom of pan. Cool completely before serving.
Recipe makes about 40 servings
Source (w/ some added adjustments): http://www.kraftrecipes.com/recipes/fantasy-fudge-51833.aspx
Butternut Squash Soup w/ Marjoram Essential Oil
Ingredients:
¼ C chopped onion
2 Tbsp & 2 tsp butter
4 C peeled and cubed butternut squash
2 C water
2 ¾ cube chicken bouillon
1 drop Be Young Marjoram Essential Oil
1/8 tsp ground black pepper
1/8 tsp ground cayenne pepper
1 (8oz) package of cream cheese

Directions:
In a large saucepan, sauté onions in butter until translucent. Add squash, water, bouillon, black pepper, and cayenne pepper. Bring to boil; cook 20 minutes, or until squash is tender.

Puree squash and cream cheese in a blender until smooth. Add marjoram and mix until blended. Return to saucepan and heat through. Do not allow to boil.
Recipe makes 4 servings
Recipe Source (w/ some added adjustments): http://allrecipes.com/Recipe/Butternut-Squash-Soup/Detail.aspx?evt19=1&scale=4&ismetric=0
Picture Source: http://images.media-allrecipes.com/userphotos/250x250/01/06/05/1060538.jpg
BE YOUNG TH BLOG
Be healthy. Be informed. Be connected. The Be You Blog is all about you. Follow us for updates, education, and valuable tips that will help you make the most of Be Young Total Health and find life restoring, life rewarding success.